Nov
25
2020
In Our Own Words: Crip Coffee Break
November 25, 2020
4:00 PM - 5:00 PM
Address
Chicago, IL 60612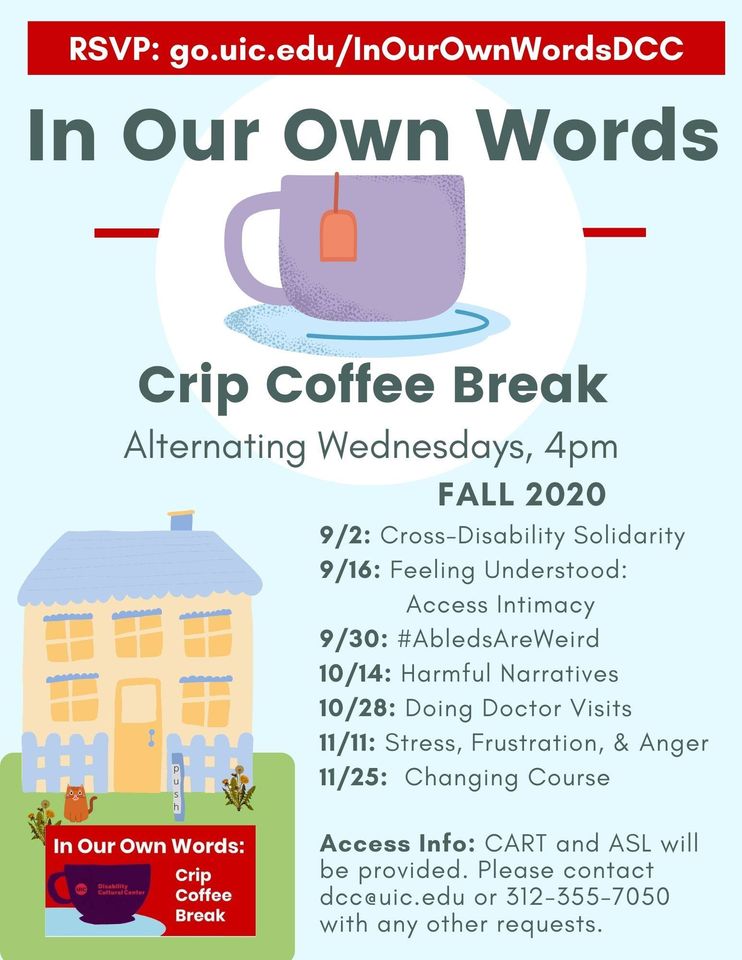 Alternating Wednesdays, 4-5pm
Access Info: CART and ASL will be provided. Please contact dcc@uic.edu or 312-355-7050 with any other requests.
In Our Own Words is a community gathering and intentional space for people who identify as disabled or are exploring their experience with disability.
We define disability and disability experience broadly to include any kind of body or mind that doesn't fit into cultural norms about what a bodymind should be and do. And we welcome those in our community who think they may have a disability but aren't sure. Whether you have an official diagnosis or not, this space is yours.
We ask that nondisabled folks respect that this is an intentional space for disabled people to build community with one another.
**FALL 2020**
Note: All topics are suggestions! We will always let the conversation go where those in attendance wish to take it.
9/2: Cross-Disability Solidarity in our Everyday Language
Problematic ideas about disability are built deeply into everyday language. What are some of the phrases that we are working to root out of our language, and how can that be an act of solidarity?
9/16: Feeling Understood: Access Intimacy
Where have we encountered people –disabled or nondisabled—who just "get" our access needs? Where do we wish we had that? How can access intimacy be cultivated?
9/30: #AbledsAreWeird: Crip Humor
We'll look at some of the cringe-worthy stories collected under Imani Barbarin's hashtag #AbledsAreWeird—and share some of our own.
10/14: Harmful Narratives
What kinds of things were you told about your condition that ended up being pretty toxic? "You're not *really* disabled, to me"? "Despite" or "overcoming" narratives? "At least you're [good-looking/smart/etc.]?"
10/28: Doing Doctor Visits
What have our experiences been like going to the doctor, PT, specialist, etc.? What strategies have we developed? What has made things go okay? What rubs us the wrong way?
11/11: Processing Stress, Frustration, & Anger
What do we do when we're feeling isolated or overexposed to casual ableism? How do we deal when we feel out of the energy required to push into inaccessible spaces? How do we process our frustration and anger?
11/25: Changing Course: Curveballs, Closed Doors, and Transitions
Sometimes our plans don't go as expected, or unanticipated factors and obstacles come our way. Has this happened to any of us, and how did we change gears? Is this happening for any of us right now?
RSVP