Mar
4
2021
Skill Session: Mad Maps
March 4, 2021
12:00 PM - 1:00 PM
Address
Chicago, IL 60612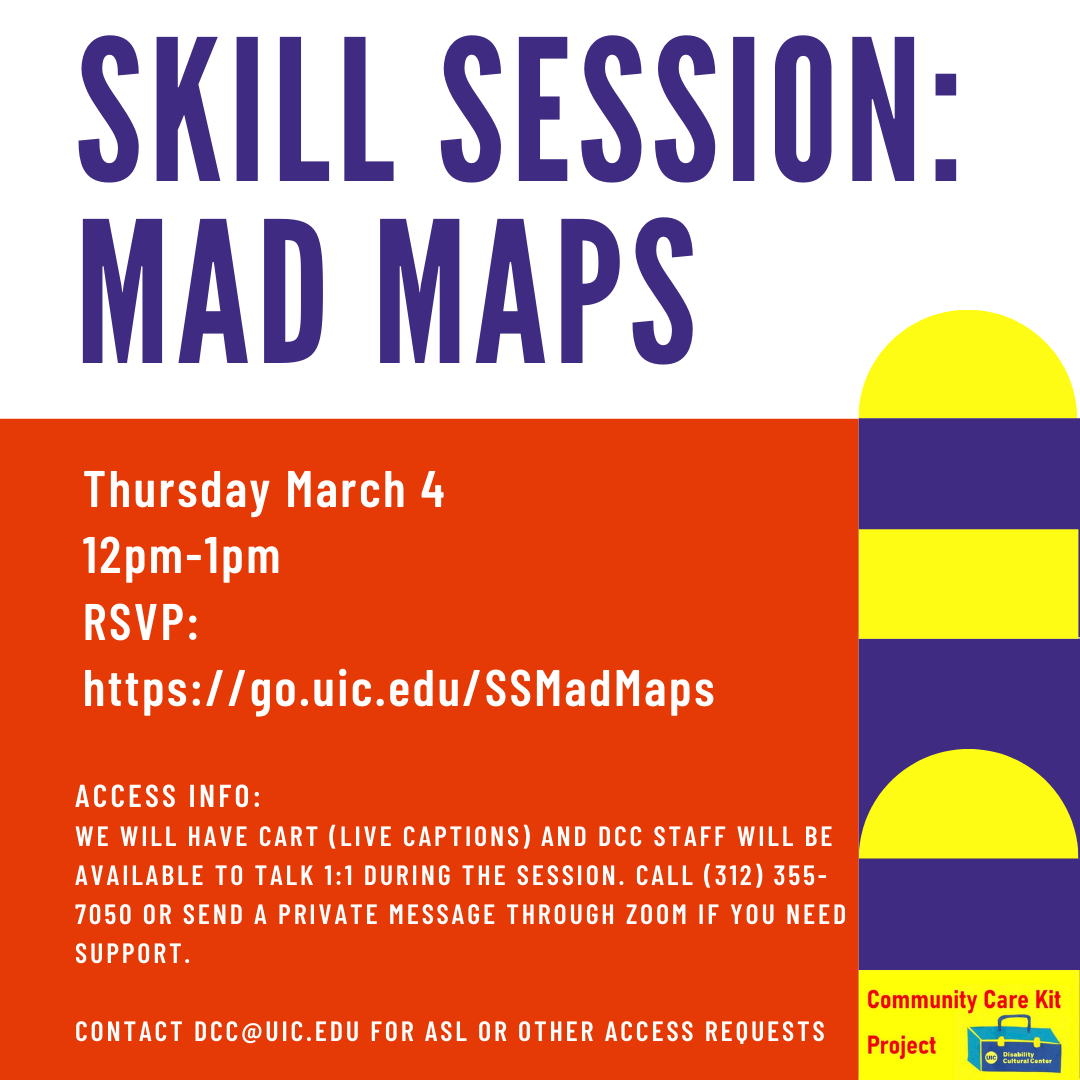 Skill Session: Mad Maps
Access info: CART (Live Captions)
DCC staff will be available to talk 1:1 during the session. Call (312) 355-7050 or send a message through zoom if you need support.
Contact dcc@uic.edu for ASL or other access requests.
Join us as we work through the Fireweed Collective's resource "Mad Maps" together. Mad Maps are documents that we create for ourselves as reminders of our goals, what is important to us, our personal signs of struggle, and our strategies for self-determined well-being. Build your map with the insights of members of the Fireweed Community and the DCC community.
This event is part of our series "Community Care Kit Project". For more information about the series visit 
dcc.uic.edu/cckp
. To apply for the Community Care Cohort internship visit 
dcc.uic.edu/internships
.
Fireweed Collective Mission:
Fireweed Collective offers mental health education and mutual aid through a Healing Justice lens. We help support the emotional wellness of all people, and center the needs of those most marginalized by our society. Our work seeks to disrupt the harm of systems of abuse and oppression, often reproduced by the mental health system.
Flyer Description: A rectangular banner with red blue and yellow rectangles, squares and semicircles, stacked like blocks. Information transcribed above is in blue text. The yellow Community Care Kit Project logo is in the bottom right corner of the banner.
RSVP
Contact
UIC Disability Cultural Center
Date updated
Feb 17, 2021