The Disability Cultural Center (DCC) is housed in the Behavioral Sciences Building (BSB), 1007 W. Harrison St., Room 235. Students are welcome to stop by between 9 a.m. and 5 p.m. Monday through Friday to visit and meet the staff and other students. The center is engaged in cultural programming and community outreach, joining the other Centers for Cultural Understanding and Social Change. Margaret Fink is Director of the cultural center. The DCC reports to Amalia Pallares, Associate Chancellor and Vice Provost for Diversity.
(Photo above:) From left to right, DCC Staff Sylvie Rosenkalt, Margaret Fink, Lily Diego-Johnson, and Brian Heyburn, in front of the DCC during the Fall 2019 Open House.
DCC News and Events
Wednesday, 6:30 pm–8:00 pm
UIC Institute for the Humanities, Stevenson Hall, Lower Level
Tuesday, 2:00 pm–3:00 pm
Disability Cultural Center BSB 235
Disability Cultural Center Housewarming Party April 18, 2019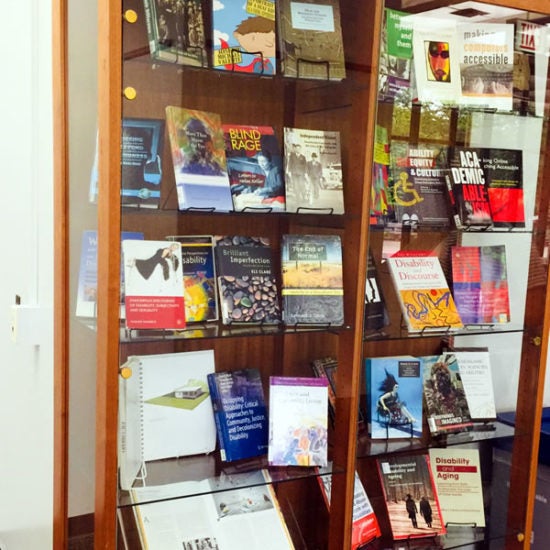 Disability Cultural Center Library Guide
The Disability Cultural Center collaborates with the UIC Libraries to provide resources related to disability culture, history, and identity to the UIC community.  The library guide linked here is intended to connect DCC visitors to resources available at the UIC Libraries.
DCC Library Guide