The Disability Cultural Center (DCC) is housed in the Behavioral Sciences Building (BSB), 1007 W. Harrison St., Room 235. Students are welcome to stop by between 9 a.m. and 5 p.m. Monday through Friday to visit and meet the staff and other students. The center is engaged in cultural programming and community outreach, joining the other Centers for Cultural Understanding and Social Change. Dean Adams is the Interim Director of the cultural center. The DCC reports to Amalia Pallares, Associate Chancellor and Vice Provost for Diversity.
(Photo above:) From left to right, Lily Diego and Brian Heyburn, both DCC staff and two members of the performing arts organization "Erasing the Distance" joining the dialogue with the audience at the DCC and LCC event Countering Stigma Through Storytelling.
DCC News and Events
Monday , 3:00 pm - 4:00 pm
GSC Flex Space, 183 BSB
The Disability Cultural Center Premiere
The DCC premiere was held Sept. 11, 2018, with a program of performance, library and community display of resources at Richard J. Daley Library, 801 S. Morgan Street.
Performances by leading Chicago artists with disabilities were featured, including Nura Aly on violin, poetry by Timotheus Gordon, dance duet by Kris Lenzo and Anita Kenney, and a solo show by Arlene Malinowski.
Dr. Carrie Sandahl, associate professor, College of Applied Health Sciences and head of the Program on Disability Art, Culture, and Humanities at UIC, presented the topic "What is Disability Culture?"
Disability Cultural Center Premiere Sept. 11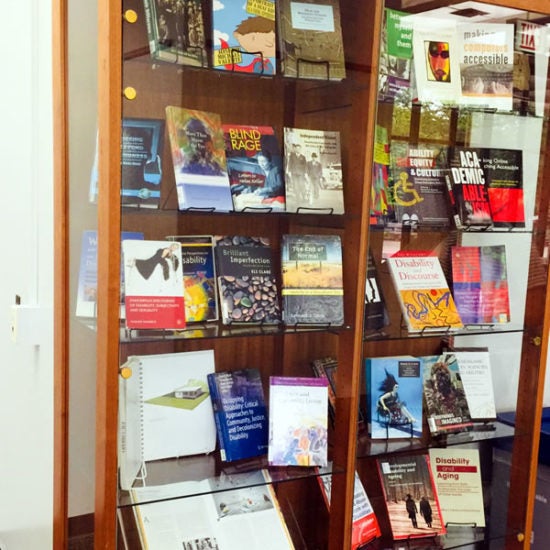 Disability Cultural Center Library Guide
The Disability Cultural Center collaborates with the UIC Libraries to provide resources related to disability culture, history, and identity to the UIC community.  The library guide linked here is intended to connect DCC visitors to resources available at the UIC Libraries.
DCC Library Guide