Unlearning Ableism
About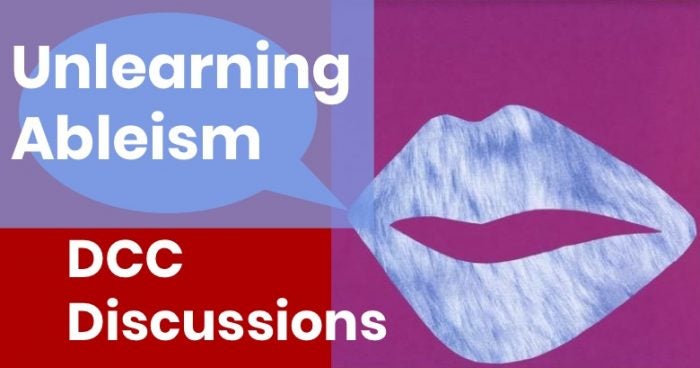 Unlearning Ableism is a discussion series about disability issues and ableism as a system of privilege and oppression.  For these discussions, we come together, share our own experiences around a topic, and engage with perspectives from disability culture. We welcome all people to join us, whether you identify as disabled, nondisabled, or somewhere in between.
Our discussions start from the idea that ableism shapes ideas, interactions, representations, and institutions that touch all of our lives. So it is worth understanding how ableism impacts us as a kind of oppression and as something that gives privilege. This series is also interested in understanding how ableism interacts with with other forms of privilege and oppression that may be related to racial or ethnic identity, gender identity, sexuality, socioeconomic status, age, immigration status, and more.
Fall 2020- Unlearning Ableism: The Recordings
For Fall 2020, we offered our Unlearning Ableism discussions as pre-recorded videos of the DCC staff having a conversation about a given topic. For each session, the DCC hosted a live-screening of the video on Zoom, followed by a live Q&A.
We're also posting each video here so that folks can watch them on their own time. We're happy to engage with you if you have any questions or thoughts you want to work through– just email us at dcc@uic.edu.
1. Access Labor (Fall 2020)
2. Ask Us Anything! (Fall 2020)
Unlearning Ableism: The Recordings- Ask Us Anything (11/09/2020)
Video description: Title slide is black with bold white letters that say "Ask Us Anything." After that is a conversation with the video showing a grid of windows with an ASL interpreter and four DCC staff, DCC Director Margaret Fink, Program Coordinator Lily Diego-Johnson, Grad Assistant Sylvie Rosenkalt, and Grad Worker Jordan Alcantar.
Transcript for Unlearning Ableism- Ask Us Anything (11/09/2020)
Transcript for Unlearning Ableism- Ask Us Anything (11/09/2020)

UNLEARNING ABLEISM: ASK US ANYTHING TRANSCRIPT (11/09/2020)

>> Okay! Welcome everyone, to Unlearning Ableism. This is our second recording for the Fall semester 2020. Today we're going to be answering questions from our community–we sort of sent out a form and we asked people to ask us questions, big and small, about disability experience and accessibility, disability culture, and we got some really great questions. So we're just gonna kind of read out three of them and talk about them. So maybe before we start, let's go around and introduce ourselves with our names, pronouns, and our position at the Disability Cultural Center. I'll start. My name is Margaret Fink, my pronouns are she, her, hers, and I'm the director of the Disability Cultural Center. Lily, do you want to go next?

>> My name is Lily, L-i-l-y, my pronouns are she, her, hers. I'm the Program Coordinator of the Disability Cultural Center.

>> Thank you. Sylvie?

>> Hi my name is Sylvie. I use she, her, and hers pronouns, and I'm the Graduate Assistant at the Disability Cultural Center.

>> Cool. Jordan?

>> Hi everyone, I'm Jordan, I use she, her, hers and they, them, theirs. I'm one of the graduate student workers at the DCC as well.

>> Okay! So our first question– we let people be anonymous, so this is from an anonymous asker. I'm just gonna read this out. Okay, so the question is: "how do you talk to professors, supervisors, co-workers, and peers about less visible disabilities like anxiety or gastrointestinal disorders? They can have such a great impact on a person's ability to be quote unquote "productive" but many people don't understand anything about them."

>>This is Lily speaking. I just want to say that is such a good question and it really resonates a lot with my experience, especially as someone who's never really been diagnosed with any um like intestinal conditions but always experience them and they've always been attributed to my mental health. So you know this has been something that I've been navigating a lot in my life, in school and at work. And I think it's always a challenge, at least for me, to be able to readily talk about my accessibility needs within these conditions because I often find that– so I'm blind, and people readily– you know, there is some, like sometimes I do have a hard time getting my accommodations, like assistive technology or like accessible documents and such, but I find that people generally are like "okay, let's figure out how to make it happen." But when it comes to things like teleworking or you know, like just needing to take more breaks or something like that for my non-apparent conditions, that often requires a little bit more explaining and even more– sometimes there's a little bit more hesitation to readily start thinking about how to implement these things. So that's why this question really resonates with me.

>> Yeah, thanks Lily [cross-talking] Oh, sorry.

>> We all have something to say! It's a great question. I'm just gonna make another comment about how good of a question this is. I think the other thing that is interesting and like tricky about things like anxiety or maybe a gastrointestinal disorder is that they vary from day to day in terms of like your productivity and so it's not always easier when you have a really consistent accessibility need, but it can be. And so I think that's another one of the challenges that this particular situation is bringing up.

>> Yeah. So this question had me thinking a lot about how my strategy for dealing with this has changed a lot over time. I've been dealing with a number of chronic illnesses for about 15 years and they really range in people's familiarity, like do they– have they heard of it before? Do they know what it is? Do they think it's really gross? Like I have some reproductive diseases and some GI gastrointestinal diseases and sometimes people just feel like that's off-limits no matter what. And when I was younger I think when I was first getting a lot of these diagnoses and understanding my experience, you know, kind of accepting it for myself, it was really important to me that I told people what was going on even if it like grossed them out. I kind of had the attitude of like I have to deal with this so you also have to deal with this, especially with teachers that I had who were mentors of mine in high school. So I made– you know, I made the decision to actively talk about things that were– would be considered like not, I don't know, not table talk, or like not appropriate for school. But then that started to feel like a burden over time and now–now, I don't feel the need to explain all of my diagnoses or what that means to everyone I meet. Of course with like certain people that I'm really close to, I want them to understand what I go through but I've also given myself the permission to tell a simpler story if I need a certain understanding to come from it. So for example I might just say to someone I have chronic pain or even I have back pain. Which is not totally accurate but also not totally untrue. But it's just more easily understood. Or for example like I get migraines and that is one that people get. So sometimes I'll say like "oh I'm having a migraine coming on" and I might not be having a migraine coming on, I might be having some other symptom that I don't talk about, but people get it. I guess I just want to say like like I give the asker permission to talk about things that that are socially unacceptable but I also want to give the asker permission to like lie or not talk about it or give a different um set of facts if that like feels more appropriate, especially appropriate for you. Especially if it's like with a professor that you don't have a super close relationship with or um yeah someone that that you may not have a long-term relationship with, but maybe you're working with them in a group project for two weeks and you don't want to like go into your whole life story. So yeah I'll leave it at that for now but that's that's what it made me think of.

>>This is Lily. I also want to kind of say that my experiences with school accommodations have 00:10:01.760 –> 00:10:07.840 been really different from like my work accommodations. So sometimes like um– sometimes– I just kind of want to say like at the Disability Cultural Center we also want to talk to staff and faculty members that are disabled and we do have availability to meet with staff to be able to sort of talk through a plan and be able to– if you just need that, like to talk to someone who also knows a little bit about the accommodations process or the– just sort of like, how do we navigate that as someone with a lived experience?

>> So this is Margaret. Just a couple of like very practical pieces of advice, and it might be stating the obvious, but maybe not– that's why I thought I would say it. It's like, you know, there's a whole range of ways to disclose that you could consider, so. And I will note that we're kind of talking about like you do kind of give someone a heads up that you may be less productive on certain days or less able to work on certain days and you know you could approach that topic without an official accommodation first and depending on how it goes you could say, "oh," you know, I don't know, maybe you might decide to go through some of the more official channels where– you know, either the DRC, the Disability Resource Center or OAE, they're in charge of employee accommodations, would kind of look at medical documentation, certify that you are eligible for certain accommodations like, you know, maybe working from home if we were in person, or flexibility about deadlines, this kind of thing. So okay all of that to say you could consider something from saying "okay, I have a condition that makes it difficult for me to work on certain days, sometimes it's unpredictable, um and then just kind of talking to your employer or your peers or your professor about, okay, here are some possible work-arounds, or can we like figure out kind of an alternate game plan if this comes up. And in that version you are just saying there's just some condition and you're not saying what it is at all– um all the way up to, you kind of disclose pretty, you know, frankly what is going on in case, you know if you think that that might help with understanding–people understanding the situation in a way that is helpful. So I just wanted to flag that there's a whole range of like possible disclosures that you could consider.

>> And there's also like different reasons to disclose, too. So we've been talking about accommodations and I think that's that's like one important motivator that might be like why someone wants to disclose. But I think– I may be just like projecting or reading into this person's question, but for me some of what's been difficult about having non-apparent disabilities is the feeling of like nobody understands what I'm going through or nobody gets what's happening, because it's not on the surface. And I just want to say like if that's what you're seeking out, like kind of compassion and just someone being like I'm witnessing this with you, or I'm here with you, you don't– like, that's a legitimate thing to seek out in and of itself. It doesn't have to be that you're seeking an accommodation, you could just be like looking for, I don't know, some companionship. And that's– I think it would change for me, it would change the decisions I would make about what to share, depending on like what I was looking for out of the conversation. But a lot of times I've been fearful of disclosing when I'm looking for that sort of companionship and then after the conversation, you know, a lot of times the person that I'm talking to will disclose that they also have some sort of unapparent disability that I knew nothing about or someone in their family does, or a good friend, and it actually has like opened connection and relationship for me with a lot of people. Um yeah.

>>It's a great question. Are there any other thoughts on that one, or should we go to another one of our fabulous questions? Okay I'm going to read another one. So this one is about language. So just a note if anybody who is watching this may want to submit a question, our form is anonymous by default but you have the option of identifying yourself and this person chose to identify themselves as the asker. So this is from Mario Lucero, and I'm just going to read what he wrote: "So there's this one word that's used everywhere and it's rarely addressed, 'walk-through' or 'walk through.' Isn't this word triggering if you're not able to walk? Like if I were to tell a new employee or a student about doing an 'orientation walk through' or I would 'walk them through' a process, etc., what would be a more inclusive word replacement? Or what do you think about all of this?"

>>This is Lily. I have a lot of thoughts but I also have been speaking a lot, so if someone wants to go before me please feel free. Okay. I'll share my thought. So this is something I'm still learning a lot about. I'm still growing in this regard because I– as someone who grew up in blind community, it was such a pet peeve of ours, for a lot of our group, when people say things like "oh, uh do you watch tv?" and then they're like "oh my gosh I'm so sorry, I'm so sorry– you don't, you don't watch TV!" Like, then they turn it into this big like "I hurt your feelings," and then I always felt like I had to like handle people's feelings around making me uncomfortable, so I always was like, "okay, I don't mind using words like 'watch' and 'see' and all these different things," like it just doesn't bother me. However now that I'm older, certain other words for other conditions, for some other communities, I'm finding that this might not actually be the case all the time for other people. They might actually prefer that we not use certain terms. So I don't know if things are changing or if it just, it's really like variable. And it's something that I'm still personally exploring.

>>Yeah, this is Margaret. I had a similar reaction, that like um– and then I second guessed it also. I was like, "well I mean it's not the worst– you know, it's not the biggest offense in terms of a word choice that I could think of. I could think of some that were maybe more I guess egregious." But then my second thought is like, "well wait a minute, like it is– I mean it's totally centering walking as a way of going getting around. It totally is– it just is! Period. And there's problems with that because it's re-inscribing this understanding of what it is to move through the world as a certain specific version of it. And um –I'm kind of just throwing this out there, for some reason, I thought that replacing like an "orientation walk through" with like an "orientation tour of the campus" was like, let's just do that. Let's just do that. As opposed to like "walking somebody through a process," step by step, because you know even thinking of things as "step by step" that's technically walking-centered language um so I don't know it's just kind of like where do you draw the line, you know?

>>That's so funny Margaret, because I was also thinking like what words what could you use instead? And the one I thought of was "run through" which is also about mobility, you know. But I think for me– and maybe this is why the campus tour versus like going through something step by step is different for me– it's like, we have a lot in our language that's metaphorical and to me, if it's not literal like "run through" people never really are actually literally running through something, that's just not what that phrase means anymore, so that feels more comfortable even though it's still based on like a mobility thing. But I think it's part of, you know, we've talked about before like "red light, yellow light, green light" words, and I think it's like, if it's a metaphor, if it's a word for a type of disability that's a metaphor for something bad, you know that's like a big no-no, right? But if it's a metaphor that doesn't have a like a moral attachment to it, it feels less upsetting to me.

>>Yeah, this is Jordan and I feel like with everything that's already been said, I totally agree as well, and I think these questions are really great because I think it also just challenges each of us of like you know ableist language or just like the standards of embodiedness in our language as well, and I love these questions. And I think it's really fascinating to think of like what we might think about or not, you know, especially since I personally don't have a mobility disability, so I don't always– like it doesn't always click to me right away. I think– yeah just to kind of agree with everyone, what they're saying, and just know that I think yes, if it's like metaphor sometimes you know we can navigate through that, but also know that, you know, we're still learning and growing and some our language is not always going to be perfect but it's good that we're kind of challenging each other, and kind of like questioning why do we use certain words, and like, you know, trying to challenge yourself using other words.

>> This is Sylvie. Just like to bring it back to what Lily said to start us off, though, I think it's important to not turn our desire to use non-ableist language into like a performance or a whole lot of emotional labor that we're like then putting on the disabled person in question. So yeah, because we do get a lot of interest and questions about language and etiquette and they're important! I don't want to say that they're not important, but there's also like a lot of other things that are going on with ableism that aren't about like people calling you a bad name and that sometimes feel more urgent or relevant. And so yes let's keep challenging ourselves to to create language that doesn't come from ableism and also let's remember that if someone's saying, you know, this is really not the point right now, we can we can like take a breath and let that go, and move on to the next– whatever is next.

>>Do people have like examples of ableist language that really do rub them completely the wrong way, and it's kind of like a– what would it be– a yellow light or a red light word?

>>Yeah this is Lily. I do but I also feel hesitant of like repeating them, but like words that we use on a daily — just to give like a very brief example, things such as like "crazy." I can't– I guess what I'm getting at is, like words really do matter, so I also want to be mindful of acknowledging that, and this is where the tension is for me because, I don't know, like yeah, I'm still growing.

>>Yeah, I think for me like "crazy" is a big one. "Lame" is also one that really rubs me the wrong way, especially in times– I've gone in and out of times in my life of being able to walk and not being able to walk, and especially when I was not able to walk that would make me so mad. Yeah.

>>This is Jordan. Yeah for me –yeah, I thought like, I hear a lot of people that say, you know, like "crazy" or "insane" or "psychotic" and stuff like that, and it just like makes me upset because I don't know, and then– and it's hard though because it's used like so much, all the time, but you know. And I always feel like I do want to challenge people, like I do challenge people in their language, but I feel like I do it– it says so much that I feel like I don't always have like the energy to do it with everyone, you know? And there's people who I already explained it to, when they still use it. And then, the word that I actually don't hear as often but it's still you know used sometimes and I get in like really bad fights about, is the r-word and you know like even though I think there's a lot more conversation around that now, I still sometimes hear it even from like my own friends and stuff. And I like you know I really am like, "okay no, we have to talk about this, now" and stuff like that. Yeah so that's like a big one I get like really really– like I sometimes scream at people when I hear that and I'm like, you know, I want to control– I know it's like hard though because someone had –like, oh I want to like have a conversation with them but it's like a word that gets me really like upset if I like fight people over it and stuff like that. But there's so much ableist language, like "stupid" is like a super common one, and stuff like that. I just like I feel I'm like, "okay I want to like have conversations about this," but like people don't really listen to me that much on it, so I'm just like "okay I'll just keep– I'll just keep going."

>> Jordan, that's mine lately, like the when people say things are "stupid" or they say that they're "idiotic" or like "they're idiots," and it's supposed to mean, like, they have no worth whatsoever, or it's a thing that has no worth whatsoever. And so just a note for whoever is watching we're recording this the day before– it's like November 2nd, it's like election week, and it's been really on my mind because in some of the presidential debates, which I watched— there was just a lot of throwing that word around as "something that's you know stupid" or "people are idiots" and somehow– I just don't even, it's just I don't want to repeat it, it just really makes me upset because I'm just not going to go there, I could really dig into it, because sometimes it's like structural inequalities, they're being blamed on people who are too quote unquote "stupid" or something, and it's just like "wow," so sorry to take us there, but yeah that's a word that's extremely common or a way of talking that's extremely common and just feels really really really harmful to me so I'm glad you brought that up Jordan. Any other thoughts about this question of language? Okay we have a third question. It's a simple question, I think it's really hard actually. So this is from Anonymous: "Can I ask people about their disability or their condition? I like learning about people's backstory but just wondering if this is inappropriate. What's your personal reaction when people ask you about your disability and is it okay to do generally?" Think about that one. So this is Margaret. I think my answer to this question is so different now in my life than it would have been in other times in my life, specifically like with my personal reaction to people asking about my disability. I think now I'm just in a better, like — I've done a lot of work against my own internalized ableism and I do remember periods where I would become intensely uncomfortable when somebody was asking me about my disability or it would be a completely– I didn't feel offended by the question but I just became upset in talking about it. But I would try to just be really matter-of-fact about it and I think that's my approach now. I don't know, I kind of take it as a mark of curiosity most of the time, in a good way, and I'm happy to answer it. Um but then I think the thing that we definitely need to bring up is that there's a whole thing where people will ask disabled people incredibly invasive questions about their history and it ends up being this weird, like "can you explain yourself" kind of a question more than anything. And I would say that one way that that happens to me is just my– the way that I talk sounds different and people ask me about that. So they'll be like, "oh where are you from?" Like I'm just in line at Walgreens checking out, "where are you from?" They just really want to know and I've even had experiences where, yeah, I would just say, "oh I'm from Wisconsin," which is not an exotic place at all, and it's very close to Chicago, and I started later on saying like "I think you're picking up on my deaf accent," and a couple people were like "oh yeah, I didn't really think you were from somewhere else." I'm like oh brother, okay. Um, but yeah that– I'll start us off with all of that, it's not a very clear-cut answer to the question.

>>This is Lily. I do think that you're bringing up, context is really important, Margaret. For example I get a lot of just people I don't know who will come up to me and think that it's okay to go deep into my history, and ask about my history, or like –or I've even had people try to like prescribe certain treatments according to them to like help me, or you know I've had people pray over me, that kind of stuff. And so there are days where I have like more ability to be kind and be more patient, but other days I am angry and other days– like there were other– when I was younger too I found myself making up stories, um like stories that weren't really true to see how far people would actually like believe me, or like how far they would ask me questions. And so I think, yeah for me, it's just really dependent on the context. I feel like now with students, with the work that I do with students, faculty, and staff, I'm very willing to answer questions just because I also don't want it to be like a stigma thing, but sometimes like if it's just solely on, like this– if it's feeling a little like morbid curiosity that's where I'm like, you know, uh…. So but then, this is for like my apparent condition, and then for like my non-apparent conditions even when I talk about them, a lot of people actually kind of don't want to ask questions, because I guess it just feels too personal, or kind of like Sylvie was mentioning, a little bit more like uncomfortable for them, so.

>>Yeah, this is Sylvie. I think it totally depends on the situation. It's like the easy answer. Yeah I've also had strangers ask me inappropriate questions, especially when I'm using like mobility– like elbow crutches or wheelchair, and that always sucks. That's never– I've never had that encounter and been like, "oh that was great!" But like you're saying Lily, there's also this thing of fighting stigma and fighting the idea that we have to like keep it all to ourselves and be, you know– that this is personal or private, and we should like not tell people. So I think in certain circumstances and cultures it can be like really validating and freeing to be able to ask questions and answer them, and like you said, I think about it too as a work thing. Like when I'm at work and students come, even if they're, you know– they're strangers to me in that moment, I don't think of it as like that interaction on the plane with the flight attendant who's like asking me about my crutches. It's like it's a different context and in that context especially, when I'm like working the front desk, I feel like I can model openness and vulnerability and that feels really good to be able to do. And so I do kind of encourage in those circumstances like, "oh do you have any other questions?" or things like that. But yeah, it's definitely like about how well you know the person or like what the circumstance is of your meeting.

>>This is Jordan and I also really agree with like– you know, it depends on situation and also sometimes even the types of questions that are asked as well. Because on one hand, like I still struggle with kind of talking about my specific diagnosis as well with folks, and I try to just use like broader terms like just– like I say I'm "disabled" or sometimes I'm like, "psychiatric disabilities," and you know, like "pain related to my stomach," and stuff like that. But some things I'm like very fearful, sometimes they'll use very specific– my specific diagnosis even, or the one– both diagnosed, like officially diagnosed, and ones that I'm self-diagnosing myself, which is also another issue I have too because people are very against that and very stig– like make that very stigmatized. I'm sorry if you hear weird noises, that's the cats in the background. But on the other hand, I also still really like to have conversations with people about this, because there's a lot of people I know who are so struggling with their own disability identities, they kind of ask me about mine, or they just like want to learn more about me, and I know– and sometimes I understand that. But i agree, I think sometimes it depends on the situation and sometimes the specific questions asked, like "oh um you just said you were disabled, like, can you elaborate specifically on that?" or, so you know, stuff like that, versus like a way that I hear sometimes that I don't really like, it's like, "what's wrong with you?" you know? And I'm like, "Nothing. What's wrong with you?" But it's all– yeah, I totally agree, but I think it's kind of cool that we're kind of finding new ways to learn more about each other in ways that are not invasive, but at the same time like even if you ask somebody in, like a way that's like, you know you're just like, "hey, can you talk more about your disabilities?" I think a disabled person has every right to not tell you anything about that, that's totally fine. But I don't know, I also still think I need to work on my own, maybe like internalized ableism, and like my fear of like stigma as well, and like my specific diagnosis. But– and I think that's okay to like not always want to talk about it. Like I'm very fearful talking about it with like, for example, my professors and stuff, like that, where they know I'm disabled but no one really knows like my specific diagnosis. But whereas like I talk more about that with like my friends, or I bring that up. But I don't know, it's just– it's complicated. But I think it's okay, I think it depends. Like I also don't have the experience of being asked by random strangers, out, you know, so it's like very different. It's like most of the time it happens when I already disclosed I'm disabled and then I get the questions. But– so it's a little bit different from my personal experience.

>>Yeah. Oh, just really quickly– this is Margaret– one thing that you're reminding me is, just– if we think about the ideal conditions for disclosure, it's like high level of trust between the people and then like equal power dynamics. And so just–we've been talking about how the context matters and I think that those would be things to think through when you're trying to think about whether you're gonna ask people about their conditions and their disabilities, and then just repeating what a lot of you have been clarifying for me– if your reason is along the lines of, "wow I am experiencing you or your condition as anomalous and I want it– I want an explanation" or, you know, like "what's wrong with you?" I think Jordan, that's how you put it, that's how a lot of people are, I think, deep down inside experiencing that question– um, that's like the version of the question that you might want to avoid, because it is kind of just not about connecting with someone and it's not about solidarity and understanding their access needs which I would say would be the two ways to ask the question that feel good to me. Hmm. Any other thoughts on that one?

>>I feel like all these have been: "it depends!"

>>Okay, so these are really really great questions. We are so game for more, so if you are here watching this at like the live screening, please hang out for another 15 minutes or so and we will do some Q&A in the chat, and if you're watching this video on your own time, we will be having our Ask Us Anything form available on our website until the end of November, and we will post responses to any questions that come in. We also give people an option to ask us to reply to them directly if you would prefer to just kind of keep it between you and the DCC, so that's completely an option. Any question's totally okay, this is the space to ask the questions that you might not otherwise feel comfortable asking, because we really do want to just open the conversation about all of these things. Okay, so thank you everyone for joining us. We're gonna sign off, and hope you have a good afternoon!
Unlearning Ableism: The Recordings- Access Labor (9/29/2020)
Video description: Title slide shows the Unlearning Ableism flyer, which has bold white text and a pair of blue lips with a blue speech bubble and multi-colored squares. Then there are some explanatory intro slides with a blue background and white text. After that is a conversation with the video showing each speaker while they are talking, including DCC Director Margaret Fink, Program Coordinator Lily Diego-Johnson, Grad Assistant Sylvie Rosenkalt, and Grad Worker Jordan Alcantar.
Transcript for Unlearning Ableism- Access Labor (9/29/2020)
Transcript: Unlearning Ableism: DCC Discussions (The Recordings), Access Labor

Transcript:
Unlearning Ableism: DCC Discussions (The Recordings)

Access Labor

00:00:07

Thank you for joining us for Unlearning Ableism: DCC Discussions, The Recordings. This session is Access Labor, and on the screen is a pair of blue lips with a blue speech bubble and multi-colored squares.

The next slides are blue with white text.

Unlearning Ableism: DCC Discussions is a program at the UIC Disability Cultural Center. We welcome everyone to join us–non-disabled allies and accomplices, people who identify as disabled, and anyone who falls somewhere in between those two categories.

Unlearning Ableism creates the space to talk about disability issues and ableism as a system of privilege and oppression–something that we can all unlearn and resist.

We do that by sharing our experiences, thinking through what we've encountered, and engaging with perspectives from disability culture.

A word on the format for Unlearning Ableism, The Recordings. There are two ways you can engage with us. One, you can watch the live screening with us and stay for Q&A in the Zoom chat. Or, you can watch on your own time and submit questions and reflections to a form that will be on our website, dcc.uic.edu/unlearning-ableism.

We're really glad that you could join us.

00:01:48

We decided we will start with a conversation about access labor. But before we start, let's just go around and do some introductions.

We'll do name, pronouns, our position at the Disability Cultural Center, and an access check-in. So, I'll start! I'm Margaret, I'm the Director of the Disability Cultural Center, my pronouns are she, her, hers, and my access needs are currently being met. Lily, do you want to go next?

>> Yeah! I'm Lily, my pronouns are she, her, hers. I'm the Program Coordinator of the Disability Cultural Center, and I believe my access needs are being met, but if that changes, I will let you all know.

>> Hi, my name is Sylvie Rosenkalt. I use the pronouns she, her, and hers. I am a graduate assistant at the Disability Cultural Center, and my access needs– I just want to give you all a heads up that I'm having a TMJ flare in my jaw, so I might be rubbing my face a lot. It also makes it a little painful to smile, so my facial expressions may not actually match the emotions that I'm feeling. So just wanted to let you all know.

>> Thank you. Jordan?

>> Hey everyone, this is Jordan Alcantar and I use she, her, hers and they, them, theirs pronouns. I'm one of the graduate student workers. And I'm a little sleepy right now–I'm fine–from class and I might move around a lot because I can't sit still a lot sometimes. But other than that, I feel like my access needs are being met as well.

>> Okay, thank you. All right, so access

labor. I kind of promised everyone that I would start us off with, what are we even talking about? And access labor is something that I've heard more informally talked about, and it's kind of this idea that, you know, if you're kind of moving through spaces that aren't necessarily super accessible, you're taking on a certain amount of work and energy– like effort–to get your access needs met. So that can be emotional labor, it can be logistical labor, it can–that's usually what it has been, in my experience. And you can also do access labor for other people. So it's just the work and the effort that goes into making things accessible. So that's my starting definition, you can definitely add to that! But yeah, I'm really curious about how access labor has played out for everyone– at work, at school, personal life…

>> I can start. (Clears throat.) Excuse me. So, this is Lily speaking. I am–so you all know this, but for those who don't– I am blind and I have chronic pain and some mental disabilities. And so I always tell, and have been telling, my therapist that like, I can't just show up to a space because I'm always anticipating my actual way of getting there, and whether it will be accessible, and then when I actually arrive, will the activities be accessible? You know, like will it be a shock to people to find out that I have, like, an apparent condition? So, actually as we were going through this in my therapy session, I was starting to feel really triggered because we actually went through, step-by-step, like all the things that I anticipate, and like the planning that I do. And it got — I didn't realize how much I actually put in throughout the day just to like navigate my daily life. So that was a point of reflection for me.

>> Totally. Yeah, that's how it plays out for me a lot, too, that I can't just show up to something and like it's gonna work out for me. Like it literally–there's almost no point in going unless I, you know, email someone to see if something's set up, and– for me, it's usually captioning or something– and then, you know, they don't really know how to set that up. You know, kind of talking them through what that might be like. And it's just– it's involved, for sure.

>> I feel like–this is Sylvie– I have a different experience than that, I think. So my disability mainly is like chronic pain. And so it's sort of this– I don't know–in between. First of all, it's not an apparent disability. And there are events, there are times that I can go to an event where the planner has not thought about access whatsoever, and I can participate in that event. And… but, where I find my labor coming in a lot is really around planning. Because it's mainly about conserving my energy and making sure that the, you know, the number of things I do in a day and the types of things I do are balanced, that I have enough breaks, you know, that I can get time to do the physical things like the stretching, you know, whatnot. Things that I need to do. So for me, it's not so much like on an event-by-event basis, but it's more on like a planning a day or planning a week. And I've noticed that–that it's like a skill I've really developed, my time management. Especially since–so I've had chronic pain since I was 13. So throughout high school and college, really learning how to manage my academic work and my time that I spent on homework really efficiently. I notice when I talk to friends or family members who are also in grad school right now, but are able-bodied and maybe never had to do the intensive kind of planning that I do, that some folks are like really struggling with time management. So that's kind of a happy, you know like– I know we say that our disabilities they– sometimes there are like difficult things that come about because of them but then there's also like skills we learn, or other positive things that come about from being disabled. And that, for me, it's like I am super good with managing my time, managing my flow of activities, and conserving my energy. Yeah so that's what I'll say for now.

>> This is Jordan speaking. Yeah, I feel, in a similar sense, — so I don't experience chronic pain, but I do experience a lot of, like, chronic fatigue, and sometimes even illness, and stuff like that. So I constantly also think about, like, "Okay, how many meetings can I do in a day?" Or I want to go to these events–"Okay, how many of these can I actually go to, depending on how I feel that day?" So and one technique I have done over the years, and I still do even at home that joke a lot about– but it's very serious for me!– is that I take lots of naps and stuff like that, and I feel like it gets so funny, like especially when we're on campus, where you'll walk into one of the Cultural Centers, and you'll see me, just like completely knocked out on the couch. And everyone's just, you know, talking and stuff like that. But I have to do that, like people just like, "Oh, I wish I could take a nap like you," and I'm like, well if I don't take a nap, I will literally– I can't pay attention, I can't really do too much in a class like in class or anything. I'll just like zone out completely and stuff like that. There's times where I'd like put my head down in class because I just couldn't handle it, so it's like–it's just funny how people are like "I wish I could do that," but like I have to, you know, or lay down and stuff like that, a lot. If I'm not in the mood to actually fall asleep, I'll just lay down a lot. And I'm in a weird balance where people tell me I'm really good at time management, but I also feel like I'm not, just because when I do try to manage my time, I still will sit down and do homework, and just not do anything at all, still. So, I don't know, I'm still not– it's still kind of hard to navigate, where I have the understanding of time management very well, but also at the same time, in practice, it doesn't really work out with with me a lot. And then, it's also hard to explain to people this, because none of my disabilities are apparent either. So kind of like, okay well, if I do this like, don't–you know, that's how I function. Or, I need reminders and stuff like that. But it just makes you think a lot about how I think time management is something that– yeah, as you mentioned, Sylvie, that I was like, "oh wow, yeah, that's a big part of my life," but I still– there's still techniques I have to do that other people may find silly, but I have to do, I guess.

>> Yeah.

>> This is like totally bringing up some other conversations we've had recently to me, about– I'm thinking about how you guys are so good at figuring out your access needs, and just like taking the steps that you definitely need to take. And I've definitely been in places in my life where, like, I don't really do the access labor, almost, like not…. like, I just want to avoid it, like I don't want to be bothered by it, and that is definitely a certain level of privilege, to be able to take or leave it, and just– –sometimes I will like not go to the event rather than have to undertake all the access labor that would be involved in, you know, getting things set up. Which definitely ended up, you know, quote- unquote "hurting" me. But, I don't know, it's a choice. It's a choice you make, whether it's worth the extra–it's not "extra"! I'm trying to avoid that word, super avoid that word. I keep forgetting to say this is Margaret speaking, sorry about that.

>> Yeah, this is Sylvie. Jordan, I think something that I really related to is your discussion about people saying like "I wish I could nap as much as you do," [laughs] Yeah. Oh man, oh boy, yeah. That– that really–I've had that a lot, with my sleep schedule too, which is, for me not so much taking a lot of naps, although I do rest during the day, but it's like going to bed very early and getting between 10 and 12 hours of sleep every night. And I have heard a lot of people say, "I wish I could always get as much sleep as you do." Yeah. And what they don't realize–I'm trying to like tie this back to access labor, and something I was thinking about before when, Margaret and Lily, you were mentioning, like, you can't go to an event without checking first–for me, a lot of events that are inaccessible is like the entire category. So like, night time events. (chuckles) Yeah, Jordan, I like the face you're making. (chuckles) And I think, Margaret, like you said there was different times in your life where you would just take it or leave it. Like, there have definitely been times in my life, particularly in college, where I was working way beyond my capacity, both like academic work, work work, for like a job, and also just socially And it has been a trade-off that I've made to kind of narrow my life more, and while I feel good about that, like I definitely feel healthier on a day-to-day basis, I'm in a lot less pain, it also you know, it is a choice, and it is something that I wrestle with. Like if I get invited to a housewarming party like that a friend's having, it's like, "okay is there gonna be somewhere for me to sit down? Is it going to be like a lot of people talking that I don't know? Is it going to be like kind of quiet and cozy and not very sensory-stimulating, or is it going to be really overwhelming?" And yeah a big type of event that I've had to wrestle with is also like concerts. And I love music, but going to like a loud concert where there's no seating– which I've found out happens more than I would like– I can't do it, even if it's like an artist that I love. So yeah, I don't know how that–I don't know that that exactly is about access labor, but it's about access and the types of events that I can or can't go to, you know, without doing some significant planning in advance.

>> I feel like we're talking about situations with the labor's on us, right? Like, we're the ones that have to kind of do all the thinking about all of this, and all the arranging, and I think that's like a huge difference is when– you know, we're starting to see this so much more, especially at UIC, people kind of taking on, as event planners and so on, some of the access labor of like thinking through, "okay, is it going to work for X person that I know how to think about, and you know there's this thing that I can maybe arrange for, that would, you know, make things more accessible. But, yeah.

00:17:34.880 –> 00:17:40.240

>> Well, also–this is Lily speaking–Yeah. And also, something that I found is that I often–like now I realize that the ways that I've had to navigate the world have really influenced the way I interact with others and can kind of offer skills and techniques, whether they're disabled or not, on how to approach things, kind of like you were saying, Sylvie, about time management, or or even if it is about like–particularly related to accessibility because of a condition, I'm finding that I've become so much more creative and like willing to think outside of the box, and just come up with sometimes ideas that seem really wild, but I think that's part of it, right? Like that's part of the brilliance of disability for me, and finding communities, that you're able to explore these options with someone, and other people. And like if they don't work, that's okay, like we tried it, but at least, I don't know, like it's not always perfect and it won't always be. It can be really draining but like, I don't know, just even having spaces to be able to talk about this is really helpful for me right now.

>> Yeah this is Sylvie, and what you just said, Lily, reminded me of when I first met my mentor for a fellowship I was doing a while back. And we met over Zoom–well, this was before Zoom–but we met online because we didn't live in the same state, and I was in so much pain. And at the time, like taking a bath was one of the only things that would help. And so, actually the first time I met my mentor, I was like in a bathing suit in my bathtub, and he was so affirming. I should say he's also disabled and had chronic pain, and he was like so affirming of that choice to just make myself comfortable. It really made me think about professionalism and about the access labor around–or I don't know if it's access labor–but just the labor around trying to appear quote unquote "professional," when that's like not comfortable for you or your body or your mind, and the permission in like disability community spaces to experiment with things that might be seen as wildly unprofessional, like meeting someone in a bathtub, but that actually might be helpful. And when I think of professionalism, really, I think it's it's about like what does it mean to do good work, and if we're trying to do work around disability and disability justice and disability culture, then like good work is rejecting whatever people thought professionalism was, and trying to make an environment that is as comfortable as possible and as accessible as possible for everyone who's participating.

>> Yeah. This is Margaret. I was thinking earlier that some of my– earlier in my life, –I guess I'm on this really nostalgic thing right now, in my life. I figured out that it was exactly 20 years ago that I started college, so it's making me feel kind of like, oh wow! But I think a lot of my energy was expended, in some parts of my life, on passing and like minimizing the appearance of my disability. And I don't know if I even want to claim that as access labor, but it's related, for sure. But yeah, that's kind of my only thought.

>> So this is Sylvie again. I think there's kind of this other side to the access labor we've been talking about, like our own personal experiences, but we also all work together in a cultural center where we're like doing access labor for theoretically like all of UIC, in a certain extent– not that we're responsible for all of UIC, but anyone who can come to our events. We, I think we want to take on that labor, like we don't want our students to have to be doing that kind of labor. But, you know, that's like way easier said than done. And I guess I'm wondering what people's experiences are related to work, and like trying to provide access labor for our campus community.

00:23:18.559

>> Yeah, that's making me think of Jordan actually, because Jordan did so much work on our newsletter, and the newsletter is such an access labor undertaking, OMG! I don't know, Jordan, if you feel like expanding on that, because you're so familiar.

>> Yeah, thank you for bringing it up because I was like, it was funny because I talked about that a lot when I used to do the bulk of that and I was like, "oh yeah, that is access labor!" Just to kind of explain what we mean is that, when– you know, I did a lot of the newsletter, and part of the access labor that, you know, I was like, "I have to do this!" It's like, you know, image descriptions and like other, you know… my brain! (chuckles) Sorry, but –and the thing I got, kind of, I personally just got–I'm gonna say "annoyed" with, was that I would constantly compare the work I was doing to like other units on campus and I was like, "why aren't other people doing this? This shouldn't be just like for the Disability Cultural Center." I mean, just like besides DHD or something like that, like none of the other Centers I saw were really doing it. And then, another incident that happened that I kind of was like, "no, that's not okay"– once, when I made a flyer for one of the events and I wrote like this really, very, like you know, "oh, access notes!"– that was the other part that I always write– access notes, that are not just like "this is wheelchair accessible." Like actually explaining what we're offering, like maybe the limitations, you know stuff like that. And I remember I wrote like a whole access note, I wrote image description, everything. And another center shared it and they purposely cropped it out. And I was so angry, like I even like wanted to speak to everyone about that and I was just like you know that took me so long, so much of my time and energy and my knowledge to do, and I just was like– So, I don't know, it was like, even that small part really got to me. And it just was like, you know, it's like how much I really wanted to let other folks know, other departments, other people, that it shouldn't be just us doing this work, too. Everyone should be, and if you are gonna share things from other folks who have done the labor, you should include that, in it and stuff like that. Because that was just total erasure, in my mind. And stuff like that. So, you know, don't share things and then– just like, that's what– yeah, I'm glad you brought that up because I was just like so angered at that. I think a lot more places have kind of listened to that, but it's just like, again, where people are only expecting our space. But that should be the standard for all the spaces at UIC– and not just UIC, obviously– but especially, specifically within where we're working, and stuff. Sorry, (chuckles) I was like angry again.

>> Well this is Lily speaking. Jordan, I think you're getting at another point, where like part of the labor that is also going on is like having a huge culture shift for a whole bunch of people on campus, a bunch of departments, and then like, and then even, the labor that goes into explaining to people why things are important, or why this is accessible– that is a whole nother layer, and often not readily talked about or recognized. That actually, this does take time and energy and a lot of consideration, and there are reasons why we do some things the way we do them. And so… yeah, I feel like I had another comment, but it just escaped my mind. so!

>> Yeah, I– this is Margaret–I appreciate this so much, like about– the way you helped me think about it, Jordan, is that you're kind of talking about, can you please respect this access labor, you know, that time has been put into it. And I think you're also getting at the emotional labor that's kind of related, which is like, the metaphor– there's a little bit of a joke that I always have these strange metaphors to talk about things, but the metaphor that I've been thinking about for my own experience of access in a university culture, like many university cultures, they're not very accessible at this point, it's just like this icebreaker ship of like, you know, just grinding against this thing. And it's kind of this aspirational metaphor, where it feels like I have to be completely unfeeling, and cold, and metal, and hard, and just tough. And it doesn't feel that way. It feels hurtful that, you know, people aren't taking on this labor of including me and people like me. Yeah. Yeah.

>> Yeah, well I mean there's this emotional aspect– oh sorry, this is Sylvie– of just like existing in a place that wasn't designed for you, and that never– you know, didn't take a person like you into account, or never expected someone like you to participate. And I think that goes beyond disability. I mean there's lots of identities that people have where it's like painful– it's painful to fight for your own right to exist in a certain space, or just to be at a university that, you know, clearly wasn't designed for you, or to be in a class… Yeah, there's just that underlying pain, emotional effort of existing and surviving and trying to thrive in a system that was not built for that.

>> Yeah this is Lily speaking. I think– um, yeah, and I think, because of all of this– like, in my particular experience, having to prove that I deserve to like, just simply exist and also but like, I deserve to be in spaces, that has caused me to internalize a lot of just like really harmful messages about the way I think about myself or the way that I interact. And, sort of, I think it kind of gets that– like, kind of going back to Margaret's point earlier about passing, right? And like how sometimes for me, like clearly, I cannot pass, but like the need to want to pass as non-disabled, or like the way that manifested for me was like, never asking for help, or like trying to pretend that all is well when I'm clearly lost. (chuckle) Or like you know And just like –I guess it's making me sort of– I think that this is why I'm so attached to the work that I do now and like trying to meet students and trying to build a sense of, there's someone out there who gets it.

00:31:48.000 –> 00:31:52.159

>> Yeah. This is Margaret. Making me think of like Access Is Love. Like, I was thinking about how I identify with that completely, Lily, like this desire to make it not seem like a huge deal, kind of like hide all the access labor. Because I think kind of, in dominant culture, it feels "extra." it feels like, you know, like a bother, like trouble to do this quote unquote "extra" access labor to make something accessible for someone. That's not how we view it at all. It's like, it's not charity, it's solidarity–which is kind of a refrain that we go to a lot. So yeah, that's really helpful for me. Thank you.

00:32:49.039 –> 00:32:53.360

>> So, this is Margaret again. I just want to invite any last thoughts because we're kind of coming up on the time that we said we were going to set aside for this conversation. So I don't know if we want to go around– feel free to just pass– and just say what you're kind of sitting with from this conversation.

>> This is Lily speaking. I think this has brought up a lot of thoughts and topics that I wish we had more time to go into, so I think–I don't know, this has just been helpful for me, just to have a good reflective point in my day, so I just I really appreciate it.

>> Thank you.

>> Yeah, this is Sylvie. I also have like a lot of thoughts percolating right now. I think what I'm ending thinking about is just the balance of holding that like doing access labor for our community is solidarity, is love– and– is work. (chuckles) So like, holding that the reason why you do it and and that being important and also acknowledging, you know, that it's labor. And wanting to make space for that but also– what's the word, like I can't think of it. Well, that's okay. I'm just thinking about how access labor is labor as well as love.

Oh! "compensation."

(Sylvie and Jordan chuckling)

>> This is a good point.

>> It was like how are people getting compensated for this work that they're doing– or not.

>> This is Jordan. I– yeah, I'm still like, there's so many things I'm also absorbing right now, and even just bringing up compensation, I always think about that too, where like like, "Hey, I need money. I can't just like– this is so much work." And, or I don't know, I still carry with me, it's okay to like let others know that they need to also do this labor as well, it's not just on me, just because I might be the only person in the space who understands like disability or stuff like that, and access. Like, no, it's also your responsibility to learn this, and know this, as well. And I'm, you know, okay with helping people learn them, but it's just like I think now as I grow into it more and more, I feel more comfortable kind of expressing like how I feel about these things with my labor, making sure that it's respected and recognized, but then also holding other people accountable and knowing that there's also so many people who are like me once and have no idea what like image description is. (chuckles ) But just like I had to learn, you will learn as well. You will learn! (all laughing)

But I feel it as a sense of love and I feel like–I really love that that's part of the phrase, because it's like, I love my community, and I love you, so that's why I really want you to learn. You know, it's like that's how I want other people to extend their love to me, because I'm still learning these things. I'm still learning a lot of other techniques for access labor. I'm still learning on how do I even talk about my own like needs and stuff like that. But, yeah, I'm just thinking about a lot.

>> Oh, this is Margaret. You guys are great. Yeah, I think I'm I'm also just you know, the same refrain– it's good, because we're hopefully launching into a Q&A discussion, reflection situation– but yeah, I have a lot on my mind from this conversation. It was really just a lot of related ideas that, kind of the relationship became a little clearer for me. And maybe because of my position I am also thinking about, you know, just on this big scale– this question that we're talking about, we kind of moved from the individual up to like a broader, collective scale, and I mean, the status quo is, many of us, many disabled people, are taking on the work of being present in community with other people and that's not– just, that's not right. And I really just, I'm optimistic, I really am, that you know we're gonna get there. But yeah, I think it should be a collective effort. Collective access is one of the principles of disability justice, just that this is not on the people most affected only.

And, yeah. So, okay, I'm gonna kind of wrap it up now. I want to thank everyone who tuned in for joining us for this conversation, and I want to re-invite people who are here for the live screening to join us in the Zoom chat for reflections– just what's on your mind after kind of being with us in this conversation? What kinds of questions are coming up for you? Just anything goes. We really invite you to engage with what we're thinking through. And if you are watching this on your own time, please find our website, which is dcc.uic.edu/unlearning-ableism. There's a Q&A form on the website where you can submit reflections and questions and stay tuned for our responses.

Yeah, okay! So this is us signing off.

[End transcript]