Program Descriptions
Unlearning Ableism: DCC Discussions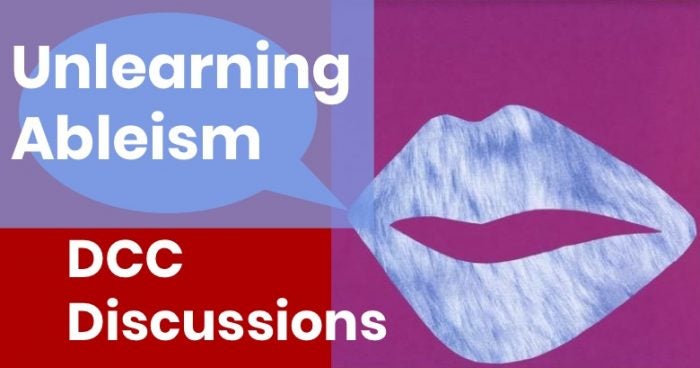 Unlearning Ableism is a discussion series about disability issues and ableism as a system of privilege and oppression.  For these discussions we come together, share our own experiences around a particular topic, and engage with perspectives from disability culture. We welcome all people to join us, whether you identify as disabled, nondisabled, or somewhere in between.
Our discussions start from the idea that ableism structures the ideas, interactions, representations, and institutions that touch all of our lives, and it's worth understanding how it impact us as privilege and oppression, especially as it interacts with with other forms of privilege and oppression.
Some of the topics we discuss are:
What's in a Word: Ableism in Everyday Language
Deaf and Disability Culture in Popular Media
Care: Dynamics of Giving and Receiving
Food Talk: When Food and Accessibility Come Together
Made You Look: The Realities of Staring
Disability at the Intersection: We Are Also Diverse
Do you have an idea for a topic? Email dcc@uic.edu or call 312-355-7050.
In Our Own Words: Crip* Coffee Break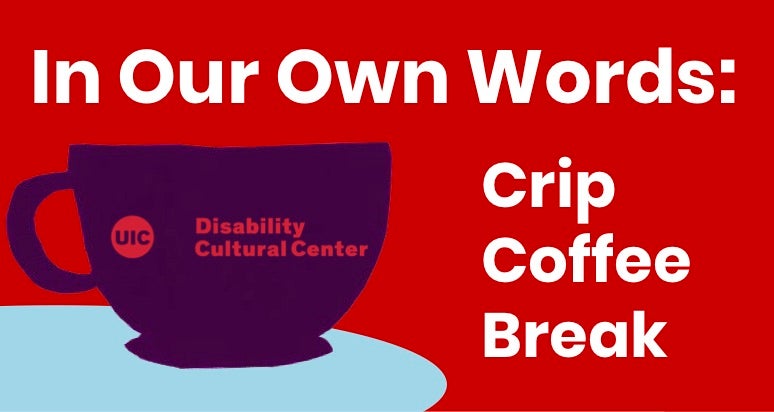 In Our Own Words is a community gathering and intentional space for people who identify as disabled or are exploring their experience with disability. We'll have topics for each meeting to focus our discussions, but our group members' lives, experiences, and concerns will be our guide.
We define disability and disability experience broadly to include any kind of body or mind that doesn't fit into cultural norms about what a bodymind should be and do. This can include physical disabilities, sensory disabilities, psychological and/or mental disabilities, traumatic brain injury, chronic illness, chronic pain; it can include Crohn's, dyslexia, neurodiversity, madness, et cetera. And we welcome those in our community who think they may have a disability but aren't sure. Whether you have an official diagnosis or not, this space is yours.
We ask that nondisabled folks respect that this is an intentional space for disabled people to build community with one another.
*Are you wondering about "crip"? Crip is a reclaiming of the insult, "cripple," and as Carrie Sandahl explains, it "has expanded to include not only those with physical impairments, but those with sensory or mental impairments as well" (27). It is, to quote Eli Clare, a "cousin" to the term queer: "words to shock, words to infuse with pride and self-love, words to resist internalized hatred, words to help forge a politics" (Exile & Pride, 70). While we are committed to making space for those of us with complicated relationships to pride, we're using crip here as an invitation to community, one that's built around questioning ableist norms, sharing our lived experiences, and solidarity.
DCC Check-In Hours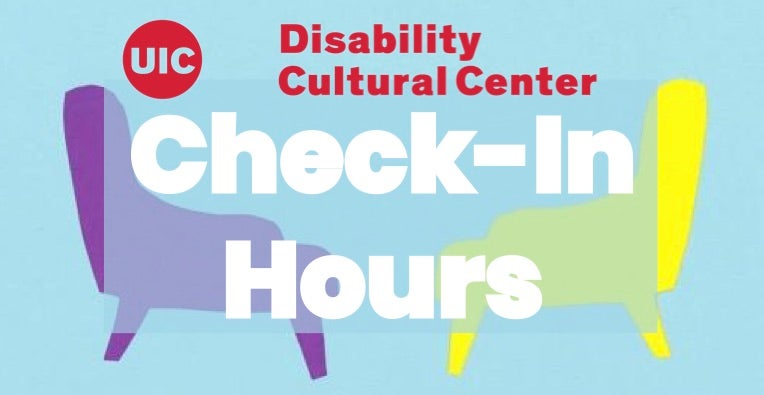 Monday through Friday by appointment:
Contact us at dcc@uic.edu or 312-355-7050
The DCC Check-In Hours are time set aside for one-on-one, drop-in meetings with DCC staff. All are welcome–students, faculty, staff, and community members.
We can talk about whatever's on your mind, offer advice, connect you with resources, or just listen compassionately. You might be running into issues with one of your courses, for example. Or maybe you are a student with a Letter of Accommodations, and you're not sure how to bring it up. Maybe you're trying to negotiate your relationship to colleagues, family, or friends. You might be experiencing a transition to a new educational or professional context; or maybe you have a disability that's new or changing. We may not have all of the answers, but we're here for you– come check in with us!
AlterNarratives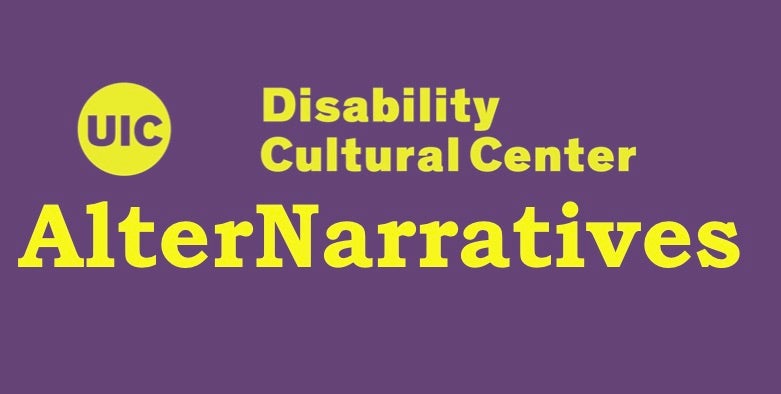 We encourage the evolution of our own narratives. AlterNarratives explores creative modes for expressing ourselves to work through, honor, and share our experiences and what it is to inhabit our bodyminds. AlterNarratives is a play on alternatives and narratives— alternative modes for telling our stories, and alternatives to the stories that others tell about us.
During these events, we engage work created by disabled authors, artists, and makers and we take time to tell the stories of our response. Other events may be more practice-focused, as we experiment with creative expression and alternative narratives in a workshop setting. All students, staff, faculty, and community members are welcome.
Community Care Kit Project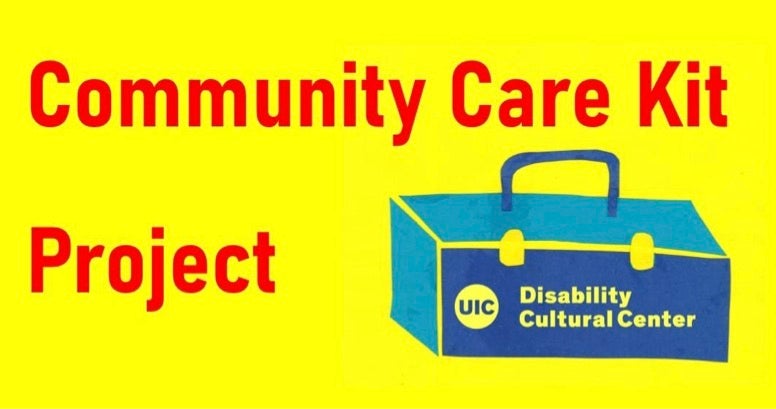 The Community Care Kit Project aims to expand our notions of what counts as care and shift the responsibility of care from individuals towards the community. When do practices of self-care become another demand that we condition ourselves for ever greater productivity, or another niche for consumer culture? How can care practices be sustaining; how can they put interdependency into practice; and how can care connect to social movements?
Disability Studies Working Group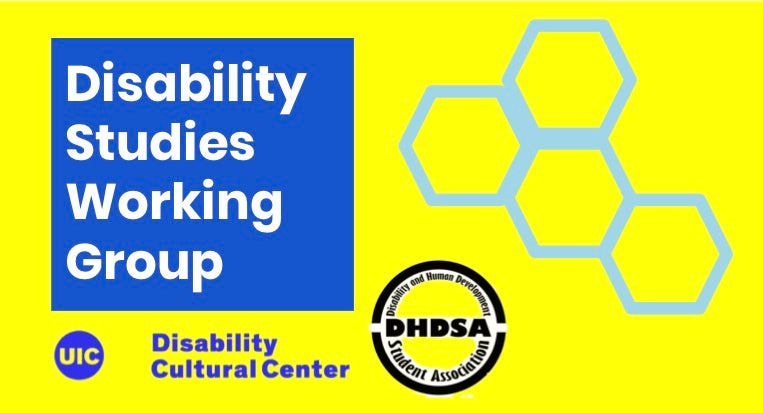 The Disability Cultural Center and the Disability and Human Development Student Association (DHDSA) are proud to host the Disability Studies Working Group at UIC. Originally formed in 2018, the Disability Studies Working Group is a cross-disciplinary collective of researchers interested in disability studies and disability issues.
The Working Group offers a forum for sharing work in progress, not limited to conference papers, dissertation or manuscript chapters, and article drafts. Students, faculty, postdocs, other UIC affiliates, and members of the community are invited to join, and scholarly work from across the disciplines is welcome- humanities, social sciences, health sciences, hermeneutic, qualitative, quantitative, theoretical, etc. The Disability Studies Working Group provides an informal environment for scholarly cross-pollination, and endeavors to offer members of the UIC disability studies community a welcoming and supportive space to practice, experiment intellectually, and receive feedback.