Job Opportunities at the DCC
We're a new-ish Center and we're excited for you to join our team and help us grow our work on campus.
We expect to post an additional full-time Program Assistant position before the summer. Stay tuned!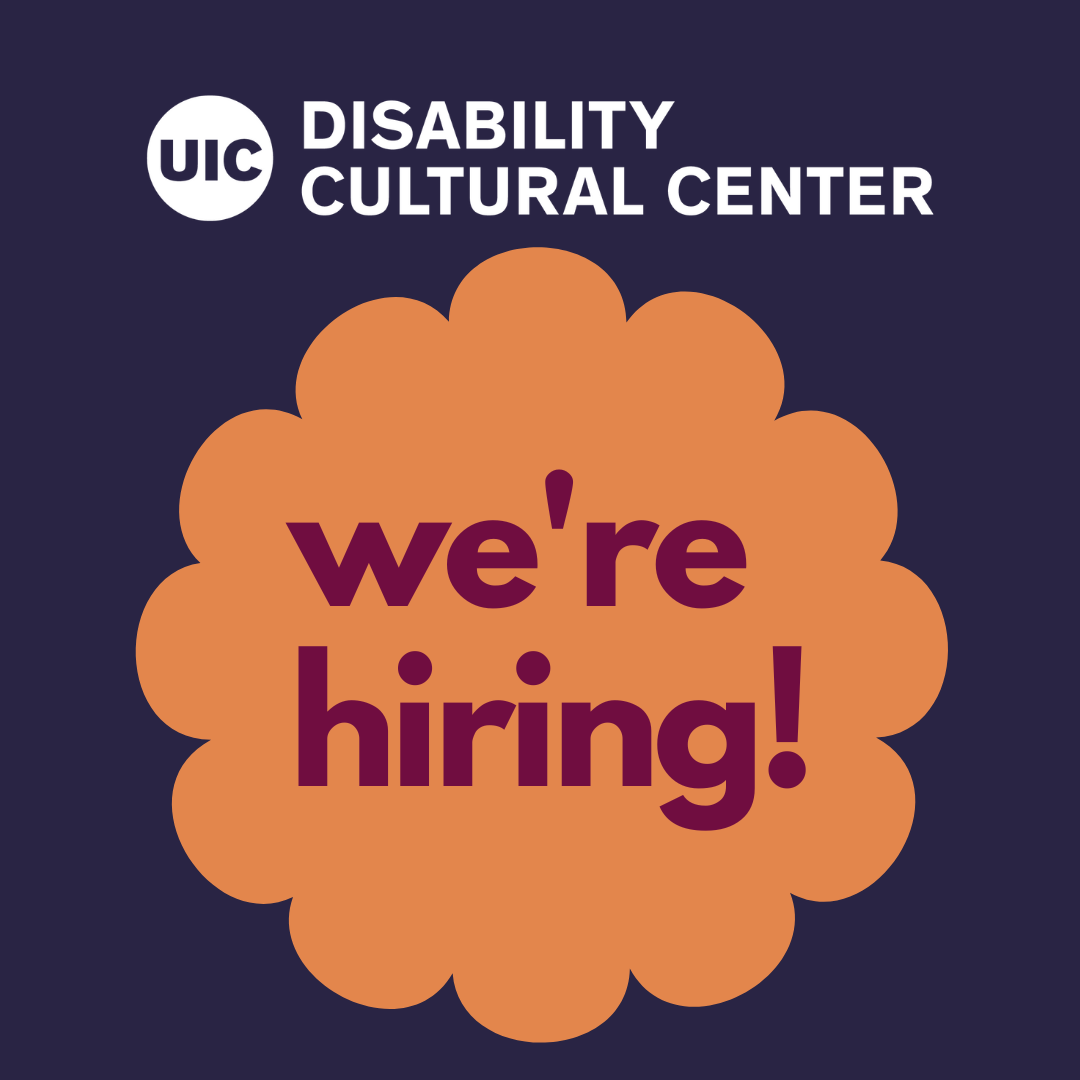 The UIC Disability Cultural Center is growing! We're seeking an innovative leader, facilitator, and community builder to serve as an Associate Director.
Applications are due March 16, 2023 @ 5pm
The Associate Director will work closely with a small, interdependent team of full-time staff members to craft programs for outreach, education, and community-building. As a core part of their position, the Associate Director will be responsible for stewarding our Community Care Kit Project and its engagement experience for undergraduates, the Community Care Cohort internship.
The programs and materials the Associate Director develops will realize the DCC's work at UIC, to:
increase social justice and cultural understandings of disability experience;
explore intersections of disability, race, gender, sexuality, immigration status, education access (first-gen experience) and more; and
lift up experimentation, cultural knowledge production, and responses to harm that have come out of disability culture and anti-ableist activism.
The Associate Director will support this work and the DCC mission through public programs, workshops, and social media content.
More about the UIC DCC & the Community Care Kit Project:
Founded in 2018, the Disability Cultural Center (DCC) is one of the seven Centers for Cultural Understanding and Social Change (CCUSC) housed in the Office of Diversity, Equity, and Engagement. We are one of a few disability cultural centers in the country. (The number is growing!) The DCC offers public programs, discussion series, arts-based workshops, and one-on-one support — as we work to engage an understanding of disability as a social justice issue and a site for identity, community, and culture.
The Community Care Kit Project (CCKP) centers healing justice and disability justice as it works to expand our notions of what counts as care, while highlighting the ways harm can occur under the guise of care. It is grounded in recognizing our interdependence and dreaming ways to put it into practice. The project has three main offerings: Skill Sessions, public skill-based workshops; the Virtual Care Kit, an online collection of care tools highlighted on social media; and the Community Care Cohort internship/engagement program for undergraduate students.  As steward for the CCKP, the Associate Director will ideally be familiar with disability justice principles, community organizing practices, forms of mutual aid, and other formal and informal practices of community care.
We are an all-disabled staff and we are invested in thoughtfully shaping an accessible and equitable work culture. We value intersectional perspectives and we understand our work as a response to enduring systems of oppression. We encourage applications from people who identify as Disabled, Deaf, Sick, Neurodiverse and/or Mad, as well as applicants who are exploring their relationship to disability identity as part of their anti-ableist commitments. We encourage applicants who identify as Black, Indigenous, and people of color; LGBTQIA applicants, and applicants from marginalized genders (e.g., cis women and trans & gender non-conforming people).
More about what we're looking for:
This is a full-time position (37.5 hours/week) and a Bachelor's degree is required.
We seek an Associate Director who is familiar with disability studies insights, disability history, disability culture (including Sick, Mad, Spoonie, Neurodivergent, and Deaf communities), disability justice, and social justice movements. We recognize that we are always learning how to be in community with other disabled folks, but we are seeking an Associate Director with a high level of familiarity with accessibility practices and inclusive design approaches.
Some of our preferred qualifications/experiences/understandings include:
Experience with anti-oppressive facilitation practices
Familiarity with community organizing, activism, &/or advocacy
Experience with program development and assessment

Knowledge of Social Justice Youth Development and youth governance practices are a plus!

Familiarity with and skills in using Microsoft office products: Word, Excel, Outlook, and PowerPoint (this includes understanding what is and is not accessible for you so that we can work out interdependent task management)
Verbal (or other real-time) and written communication skills to maintain working relationships with UIC colleagues and other organizations.
Applying
We strongly encourage interested applicants to get in touch with us at dcc@uic.edu so we can share tips about navigating UIC's hiring system. We are happy to offer more information about the position or answer any questions.
To apply, please submit an on-line application at https://uic.csod.com/ux/ats/careersite/1/home/requisition/3182?c=uic
by March 16, 2023 at 5pm.
If you encounter any accessibility issues with the application portal, please contact us at dcc@uic.edu.
This position is salaried and paid bi-weekly. Expected salary is around $55,000/year. UIC also offers benefits like paid vacation and sick leave, health insurance and retirement plans, and professional development opportunities.
While some remote work may be possible, this position will be primarily on-site in Chicago, Illinois.
The University of Illinois conducts background checks on all job candidates upon acceptance of a contingent offer of employment. Background checks will be performed in compliance with the Fair Credit Reporting Act.