DHD Art Show
The DCC lounge is the proud home of the winning pieces from UIC's Department of Disability and Human Development 2020 undergraduate student art contest. Together, these pieces by Jordan Alcantar, Alkebuluan Merriweather, and Karla Velasco make up an exhibit called "Creating Disability Culture."
Karla Velasco, Selma Blair and Her Plus 1, Her Cane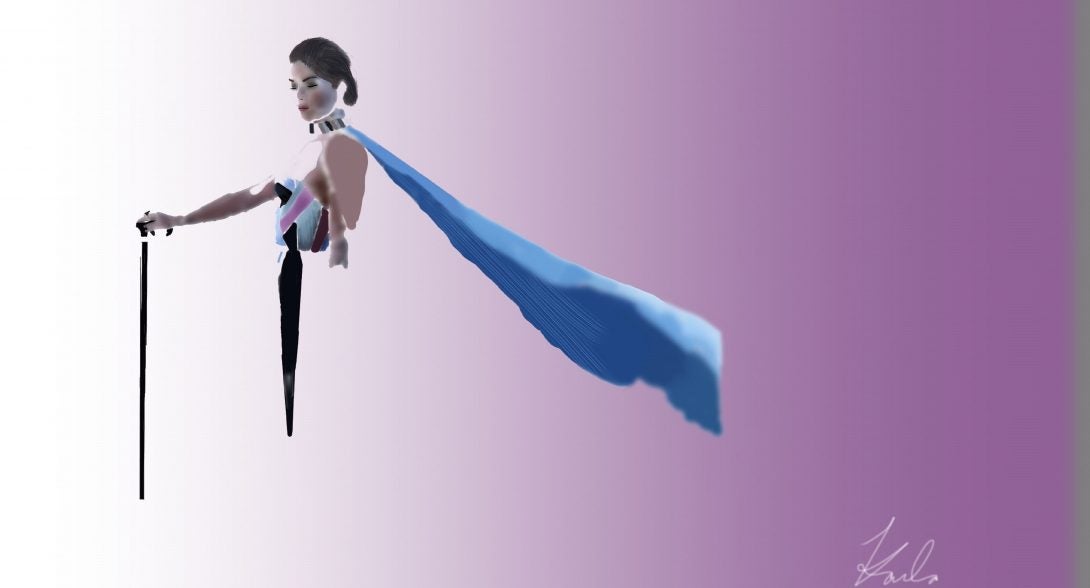 About the Piece
When I saw Selma Blair on the red carpet of the Oscars, I was so glad because I had not seen her in the public eye for many years. Then, I read her interview with Vanity Fair where she talked about her journey with Multiple Sclerosis–from doctors not believing her symptoms because she is an actress, to making it her goal to design and create accessible clothing for people with disabilities. In the same article, she said that she made it her goal to answer all messages on Instagram. So I messaged her, asking for her permission to be the subject of my art piece, and she said she would be honored. So, this one is for you, Selma.
Alkebuluan Merriweather, Raw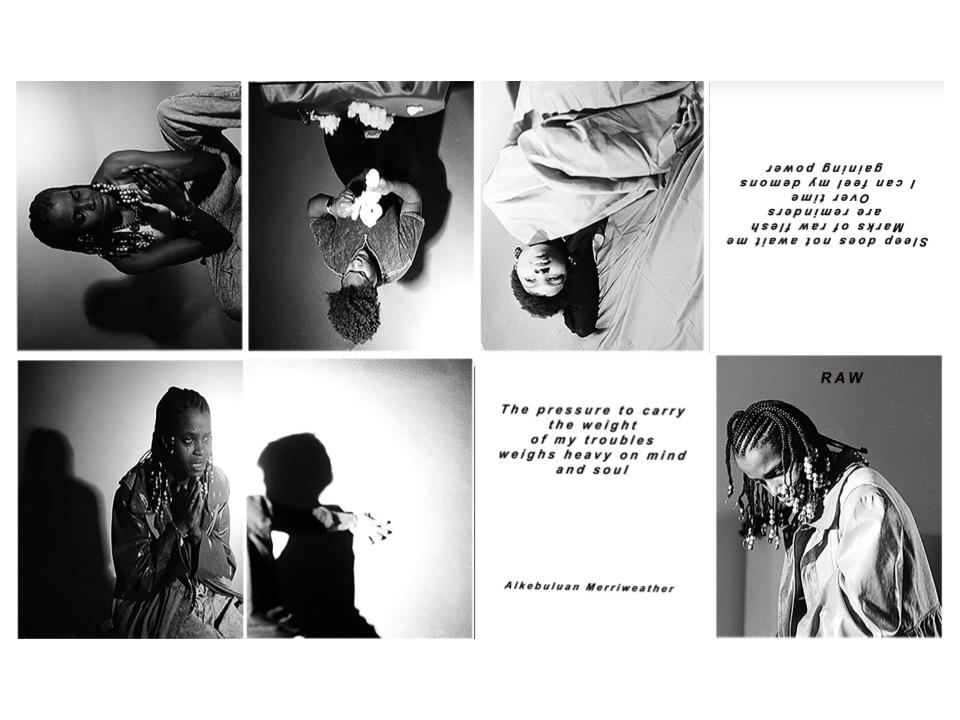 About the Piece
Alkebuluan Merriweather (b.1997) is a Chicago-based artist specializing in analog photography. Alkebuluan has a background in Art History, specializing in architecture, social justice, and the Black Arts Movement . Alkebuluan uses analog photography to explore the  documentation and alternative themes. Her work often centers around black portraiture, street photography, and the built environment of the South Side of Chicago. Raw seeks to explore the complexities of mental health through the format of DIY culture and black and white photography. Raw focuses on the artist's own relationship with navigating mental health as a black woman by documenting fellow black and non-binary people.  Raw focuses on themes of insomnia, depression, self-harm, and coming to terms with being a flawed being who is constantly evolving. This body of work is by no means necessary meant to glorify any of the topics mentioned above. But instead it is meant to offer comfort to black individuals, people of color, women, and anyone who has struggled with mental health as a millennial within our society.
Jordan Alcantar, Fatigue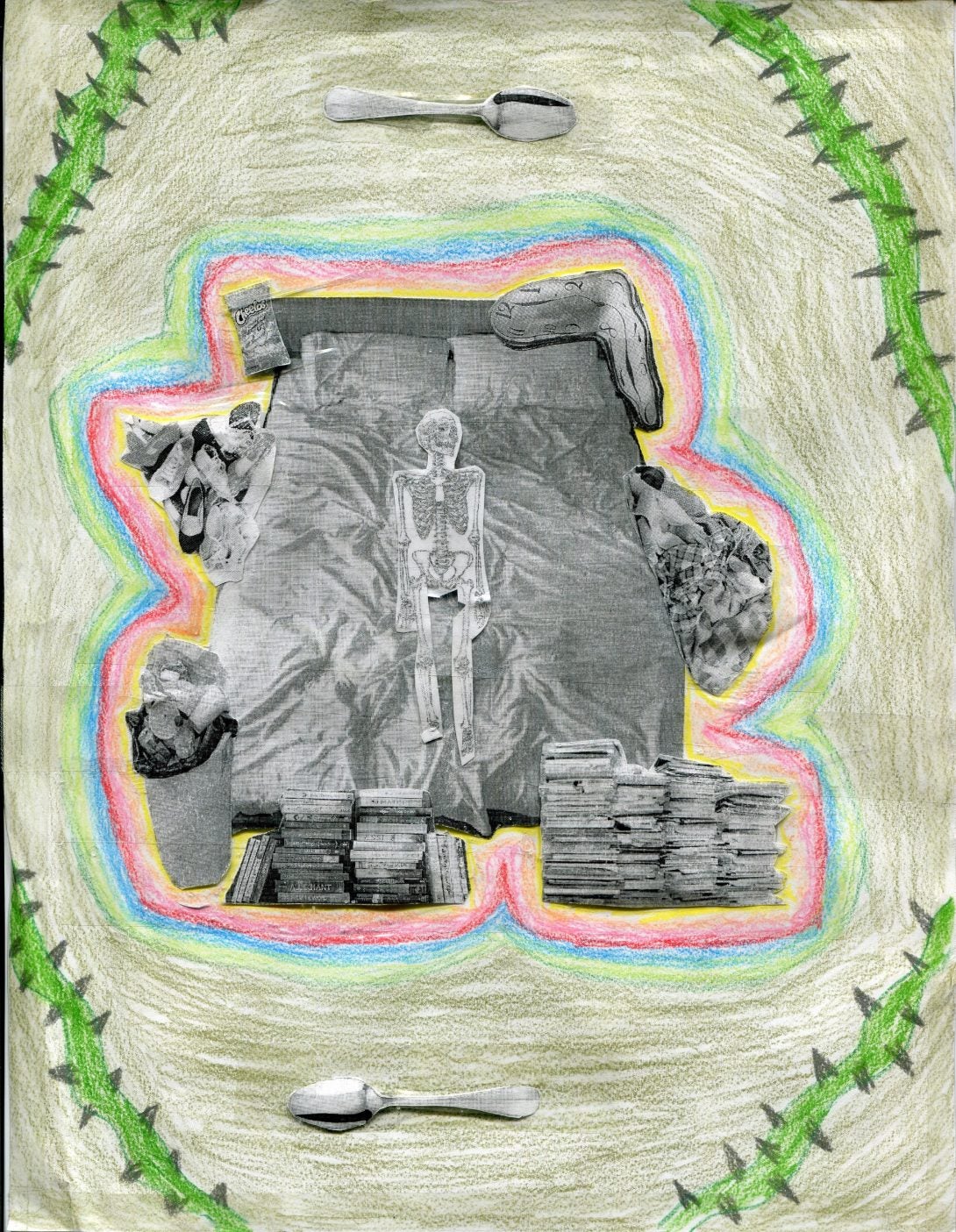 About the Piece
I was inspired by my long history of fatigue related to my multiple psychiatric disabilities. Growing up, and even to this day, I was often called lazy by many people for wanting to listen to my body. I represented myself as a skeleton to depict the almost death I feel sometimes not being able to get out of bed or other places of rest. I wanted to be real about what it looks like, so I added the piles of clothes and trash because that is often what happens in my room. I also wanted a rainbow to represent how I started to see this through a more positive light: I am not lazy, but I am finally listening to my body more to take care of myself. I also call myself a spoonie, a sub-culture within the disability community, which is why there are floating spoons.