Oct
17
2020
Dialogue: Disability and Access in Movement Building
October 17, 2020
3:00 PM - 4:00 PM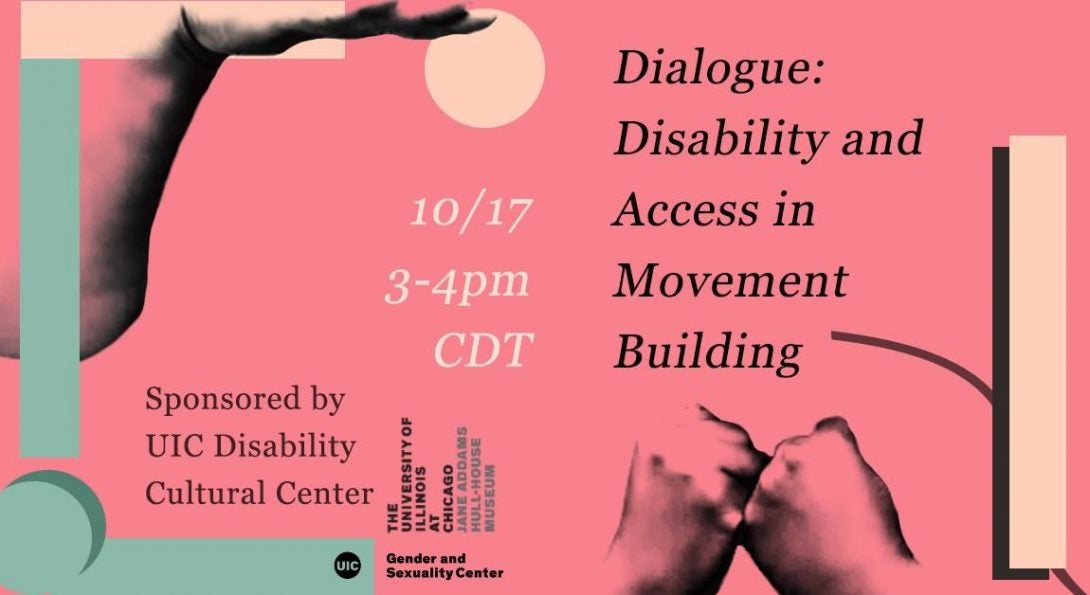 Address
Chicago, IL 60612
Dialogue: Disability and Access in Movement Building is a panel discussion facilitated by Queer and Trans activists and artists of color with disabilities. The panelists share honest takes on their real-life experiences in navigating organizing spaces in relation to disability and access, as well as the creative practices they have developed to address those issues.
Panelists
Michelle Zacarias
Vita Eya Cleveland
Noah Ohashi
Bria Royal
Moderator
Terri Lynne Hudson
ASL Interpretation and Captioning Provided. For any other access requests, contact dcc@uic.edu or 312-355-7050.
Sponsored by UIC Disability Cultural Center with co-sponsorship from the Jane Addams Hull House and Gender and Sexuality Center
ID: A thick curvy aqua line winds across a coral pink background, fading to light yellow at the right. The title appears in light yellow text with shadowing, and other text is in black. A small black sign post with arrows in two directions sits on the line. To the right, black and white photos of a tall upside-down cactus and an open flower sit behind the line.
**Companion Workshop, 10/28**
The workshop, "Work-in-progress: Disability and Access in Movement Building," will invite participants to a critical thinking process through interactive activities and discussions on collectively envisioning disability solidarity in organizing practices. During the session, the participants will be able to reflect on their own practices, explore the connections between their works and disability justice, and learn about collaborative processes for mapping access. Check out the Facebook event page for more information:
https://www.facebook.com/events/693285064866748
Date updated
Sep 23, 2020